Aluma Graphics Exhibit at Design 2 Part Show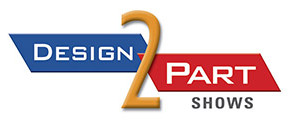 Posted by admin-alumagraphics 02. 06. 15 2:13 pm
Founded by U.S. Marine Ben Edwards 39 years ago, Design 2 Part is a show dedicated to bringing together the finest American contract manufacturers with OEM's and product manufactures who need their services. The show is the largest design and contract manufacturing show in Texas.
Design 2 Part Show for February 25th and 26th will be held at the Gaylord Texan Convention Center in Grapevine, TX and Aluma Graphics will be there. We will be sending a few members of our staff to represent the company and display our many capabilities in the commercial printing industry of functional identification products.
Aluma Graphics at Design 2 Part Show
At the first show of 2015 there will be many manufacturers across the industry, but Aluma Graphics will be able to stand out from the crowd due to our unique printing services. As we often address to our potential clients and why new clients choose us, we can manufacture identification products out of anything imaginable.
Even when clients request something out of the ordinary, our team at Aluma Graphics can often meet their request and produce their specific order.
Metal Fabrication: Custom Control Panel Manufacturing and More
As one distinctive manufacturing characteristic of Aluma Graphics is our in house metal fabrication process capabilities, which in the commercial printing industry is rare. When companies need products with precise shapes, bends, holes, and other specific configurations for their custom printed products, we have the capabilities to manufacture them.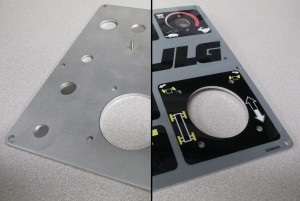 More specifically, in control panel manufacturing, companies across all types of industries require very particular characteristics for their products' control panels. At Aluma Graphics, we have the necessary machines and equipment and a highly skilled staff to manufacture control panels with custom designs. We are able to manipulate metal in many ways using processes including precision cutting, machine CNC punching, and bending.
Graphic Overlay Printing for Control Panels
With our extensive printing processes we save clients' time and money since they can come to us for the entire product printing and manufacturing versus using two or more companies to produce one piece. For example, upon manufacturing their products, we can also affix graphic overlays, or digitally print or screen print directly onto the control panels.
In most cases, to have the panels manufactured with custom print or overlays, clients typically have to seek out two separate service providers to complete their products. Our finishing options also save our customers the extra step by applying overlaminates, adhesives, or installed hardware for mounting purposes. With the flexibility of our metal fabrication, printing processes, and finishing options, Aluma Graphics can offer turnkey control panels to customers all over the United States and the world.
Dead Front Control Panel Manufacturing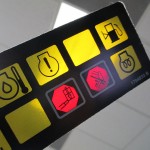 Aluma Graphics even takes control panel manufacturing to the next level. We also have the capabilities of manufacturing dead front control panels. Our custom dead front control panels offer the many benefits of our standard control panels, as well as offering additional panes that only become visible through reverse lighting. They are highly used in many industries where panels need to be viewed on products, equipment, or machinery with illuminated backlighting.
More Identification Product Manufacturing and Commercial Printing Services
While metal fabrication is a key characteristic of services for control panel manufacturing, Aluma Graphics has a lot more to offer. On a global scale we are also a custom manufacturer of functional identification products including metal nameplates, overlays, labels, and decals. Depending on the substrate, materials, specific application and use, we can manufacture these products using an array of processes such as Metalphoto, bar coding, embossing, laser etching/engraving, and much more.
Our highly skilled and experienced staff along with our strong history in the commercial printing and identification product manufacturing industry, we will have a lot of products to display and processes to offer at Design 2 Part Show in Grapevine, TX this month.