Electrical & Electronic Dielectric Insulator Manufacturer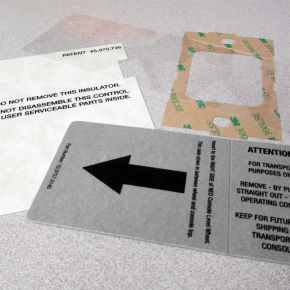 Posted by admin-alumagraphics 12. 15. 14 1:40 pm
To meet many strict product requirements as well as government and industry regulations, manufacturing companies are required to test their products using the Insulation Resistance (IR) Test. Insulation resistance is a characteristic of an insulating material that, when exposed to voltage, the leaking current flowing through it stays within acceptable limits. This test is a simple and straightforward procedure; find two conductive points between which there is a dielectric insulator, connect the two points to an insulation tester and measure the resistance of the insulation between the two points.
For manufacturing company's products to pass this simple, yet strict test regulation, manufacturers need a reliable dielectric insulator manufacturer to produce these product parts that can then be applied to their product.
Custom Dielectric Insulator Manufacturer
Aluma Graphics can manufacture a wide range of electrical and electronic dielectric insulators for industries of all kinds. As a custom manufacturer of electrical insulators, we can produce dielectric insulators that are customized for nearly any type of conducting material. Aluma Graphics offers the most common materials with specific options and print preferences.
Electrical & Electronic Dielectric Insulator Materials
Polyester is a strong, durable material that exhibits a high conductivity resistance
Fish Paper (Vulcanized Fibre) is a strong, flexible, fibrous dielectric paper that resists moderate heat and increases dielectric strength as an insulator while also having high mechanical strength
Nomex paper is an insulation paper that offers high inherent dielectric strength as an insulator as well as mechanical strength, flexibility and resilience
Any of the materials can be made with or without adhesive and can be printed or left blank
Products and Industries That Need a Reliable Dielectric Insulator Manufacturer
Lighting and light fixtures
Televisions, audio/video equipment and other electronics
Commercial and home appliances
Automotive/Aviation parts and products
General consumer products
Telecommunication equipment
Computers and computer hardware and equipment
Medical equipment
Power supply systems
Electrical and power distribution systems
---
Contact Aluma Graphics today and see how we can not only meet, but exceed your electrical and electronic dielectric insulator manufacturing needs!
---
With decades of experience and being an AS9100C and ISO 9001:2008 certified manufacturer, Aluma Graphics can manufacture custom dielectric insulators to meet even the most specific industry requirement and design. Our die cutting process allows us to offer electronic and electrical dielectric insulators in any shape needed; by producing the die cutting press to the exact specifications, we can cut and shape the insulator materials for a perfect match during each production run and include creasing for folds if needed. From polyester and fish paper to Nomex and other insulator materials, Aluma Graphics can provide high quality dielectric insulators that can enhance your end product by ensuring positive Insulation Resistance Test results to meet the strict government regulations and independent industry standards.