Control Panels
One of the most distinguishing characteristics about Aluma Graphics happens to be our metal fabrication capabilities. This along with our printing experience, enables us to carry out specialty jobs for our customers such as the production of turnkey Control Panels. At Aluma Graphics, we are able to manipulate metal in many ways such as precision cutting, punching and bending. Graphic overlays can be affixed to these custom panels, or we can digitally or screen print directly onto the panels. This flexibility enables us to offer a turnkey piece to our customers, thus allowing them to save precious time and money. Our standard finishing options such as overlaminates and adhesives are available with these control panels, and we are able to install hardware for mounting purposes.
Dead Front Control Panels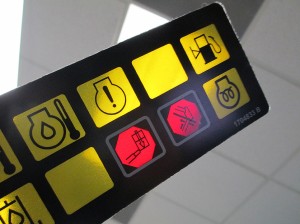 Dead Front Control Panels offer all the benefits of our standard Control Panels, as well as offering additional panes that are only visible through reverse lighting.