Labels
Aluma Graphics has over 40 years of experience manufacturing the highest quality labels for products servicing a multitude of different industries. Based on numerous factors such as the type of surface the label will be adhered to or the type of environmental conditions the label will be exposed to, our experienced staff will work directly with you to recommend the most efficient materials, adhesives, designs and finishes to ensure supreme performance.
UL Labels
Aluma Graphics specializes in label applications that conform to Underwriters Laboratories (UL) standards. The UL Listing Mark on a product signifies that a sample lot of that product has been tested by Underwriters Laboratories and are in accordance with nationally recognized safety standards that govern the foreseeable risk of various hazards such as fire and shock. Aluma Graphics is proud to have been a member of the UL Authorized Label Supplier Program since 1995, file number LP2587.
Custom Decals
Aluma Graphics' expertise in manufacturing custom decals helps to ensure that your brand and the identification of your product will exceed your expectations. We manufacture custom decals for thousands of global customers spanning a multitude of different markets and industries. We can build custom decals directly to customer specification or our team of professionals can work with you one on one to help designate the most effective materials, finishes, and adhesives based on your product application.
Domed Labels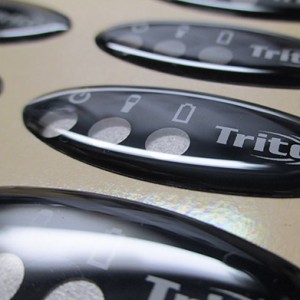 Aluma Graphics offers high quality polyurethane domed labels and decals. Domed labels and decals provide a clear 3 dimensional appearance to ensure your product stands out from the competition.