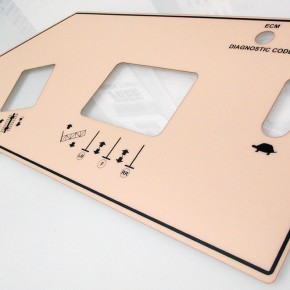 Posted by admin-alumagraphics 11. 25. 14 3:00 pm
From electrical equipment to industrial machines, control panels are a necessary element to all types functioning products, machinery and devices. Due to the important roles control panels play in all sorts of industries, it is crucial that they are produced exactly to the specifications for the product they will be affixed to.
Being flexible by offering multiple control panel manufacturing processes allows Aluma Graphics to meet the individual needs of many customers in different industries and their need for control panels. From metal fabrication to die cutting or laser cutting, we are able to manufacture and offer our customers the exact control panel product they need for all types of applications.
Metal Fabrication Process For Control Panels
One of the most distinguishing characteristics about Aluma Graphics is our in-house metal fabrication capabilities and custom machining processes. We are experienced in multiple fabrication and machining processes when forming and manipulating metal products.
Precision Cutting – Many equipment components, including control panels, require precision-cut shapes to precisely match a specific outline and size needed. With precision cutting, we can also match custom configurations as well as functional markings and labeling.
CNC Punch Machining – Our technicians can punch sophisticated and shapes and/or designs into a control panel to meet nearly any custom design.
Metal Forming – The forming process allows our experts to modify or alter metalwork without removing any of the material by bending and shaping.
Water-jet Cutting – Our machinists are highly skilled at cutting with water-jet machines. This process is done by connecting the cutter to a high-pressure water pump, then water combined with abrasives ejects from the nozzle which cuts through the material at rapid speeds. Using this precise cutting process allows us to create control panels that have fine cut contours with smooth, precision cut surfaces.
For over 40 years, Aluma Graphics has produced metal-fabricated control panels for all types of industries and businesses throughout the United States.
Die Cutting and Laser Cutting
The laser and die cutting processes allow us to create custom overlays for control panels and gives our customers the opportunity to enhance their panels with a specialized design. Die cutting is great for specializing control panels such as holes or hooks cut into the panel or other unique custom shapes and openings. Aluma Graphics can create any look or design on your control panel with our custom die cutting and laser cutting processes.
Control Panel Graphic Overlays and Finishing Options
Graphic overlays produced with durable materials such as polycarbonate and polyester can be manufactured to the exact specification for your control panels. We can affix graphic overlays to your custom control panels, but we can also digitally print or screen print directly onto the panels. We also offer control panel finishing options such as overlaminates and adhesives.
At Aluma Graphics we offer many options for manufacturing control panels to meet your specific product needs. Each one of the processes we provide is done by experts that will produce a final product that will stand up to and exceed industry standards.